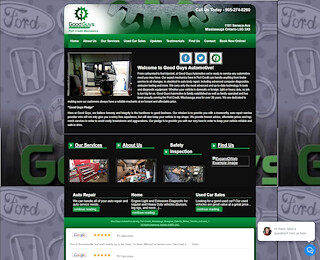 There are few professions with as dodgy a reputation as car mechanics. Port Credit is like anywhere in the nation, where people don't always trust mechanics to charge a fair rate. We are called The Good Guys for excellent reasons. We've been providing honest and reliable auto repair for more than thirty years.

If you own and drive a high end luxury car, you'd better know a few good mechanics Port Credit, or wherever you happen to be. Today's modern engines and car electronics make it difficult for the average weekend handyman to properly maintain a vehicle. Some cars, when you look under the hood, appear to be a veritable rocket ship of engineering. If you don't know the names and numbers of excellent car mechanics Port Credit, here's one to remember: 905.274.8260Â This is the number for Good Guys Automotive in Mississauga, Ontario. Whether you require full service maintenance, or just want a qualified mechanic to give your ride a clean bill of health, Good Guys Automotive is the auto repair business for you.

Please don't wait until something goes horribly wrong before you have your vehicle inspected. By the time your brakes start squealing, serious damage may have been done to your rotors, calipers, brake pads and brake shoes. Where braking systems are concerned, regular inspection can go a long way toward ensuring your safety. Bring your car or truck to Good Guys Automotive auto repair shops for quality brake service. We also do superior auto collision repair. We know how crucial periodic maintenance to any vehicle. If every car, van and truck ran right, the roads of Ontario would be so much safer for everyone. Find us at 1101 Seneca Avenue in Mississauga, Ontario, Canada. We serve Port Credit, Mississauga, Brampton, Oakville, Toronto and environs. For shop hours and driving directions, call 905.274.8260
We welcome your comments!